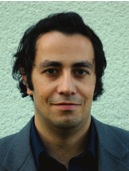 Press Pass: Nr. 46-00-015189001 (Berlin-Brandenburg)
Press Pass of the German Government: Nr. 906914
DJV-Member (German Press Association): Nr. 906914
VAP-Member (German Foreign Press Association): Nr. 1267
www.ilnuovoberlinese.com
www.esbardophotopress.com
Emilio Esbardo has a degree in "Foreign Culture and Languages". He is an Italian writer, journalist and photographer, who has authored six books.
In 2006 he moved to Berlin, thanks to a DAAD (German Academic Exchange Service) scholarship, in order to write his thesis about Berlin. In 2009 he started working as a journalist by writing articles about the celebration of the twenty-years previous fall of the Wall, published by Il Quotidiano della Calabria.
Emilio Esbardo has founded in 2012 "il nuovo Berlinese" a magazine about Berlin in Italian.
CV 
Work Experience
05/2011 – today: Founder and Editor-in-chief  of the magazine il Nuovo Berlinese
03/2009 – Present:  Photographer/Journalist freelancer, language teacher, Berlin, Germany
2002 – 02/2009: Writer and photographer, Perugia and Roggiano Gravina, Italy
Published Works
07/2004: La Filosofia di Julia (novel), Morlacchi Publisher, Perugia, Italy
Translation by author with the help of Sebastian Kubon into German (Julias Philosophie)
07/2004: Racconti sotto le stelle (short stories), Morlacchi Publisher, Perugia, Italy
Translation by author into English (Tales under the Stars)  
08/2002: Perugia tra immagini e parole (photos and short stories), Morlacchi Publisher, Perugia, Italy
Publications currently in progress:
Judith Hermann's Berlin: A writer, her generation, her city (essay)
Berlin Report: Images of a reunified metropolis (photo book)
il Nuovo Berlinese – three years about Berlin (novel)
Language Skills
Italian (Mother Tongue); German (Very Good); English (Very Good); Spanish (Fluent)
Education
09/11/2006: Università di Perugia, Perugia, Italy
Degree in "Foreign Languages & Cultures" (German, English, Spanish)

Vote: 104/110 (Very good)
04/2006 – 08/2006: Universität Potsdam, Potsdam, Germany
General & Comparative Literature, German Studies, and Creative Writing 

July 2006: Certificate of Merit in "Translation Italian/German II"  

May 2006: DAAD-Scholarship to author thesis: "Judith Hermann's Berlin: A writer, her generation, her city"
08/2005: Universidad de Salamanca, Salamanca, Spain
Intensive courses in "Spanish Grammar" and "Italian/Spanish Translation"   
01/2002 – 07/2003: Umbra Institute (through Arcadia University), Perugia, Italy
Drawing, Documentary Filmmaking I & II, and Photography
10/1999 – 08/2000: Universität Bonn, Bonn, Germany
German, Italian and North American Literature (Erasmus)
10/1998 – 11/1998: Heidelberger Sprachinstitut, Heidelberg, Germany
Intensive course in "German Language"  
Interests  
Music, cinema, travel, and participating in foreign language exchanges